A little update to Whimsy...
First published: 15 November 2020
What started as discussion between friends and a lockdown project considerably more involved than first thought; Whimsy very quickly escalated into something bigger more incredible than first imagined.
After collating all of the very interesting and useful interest check feedback; changes were made across the board (pun intended) to the original Whimsy design.
The final PCBs have quite literally just been packed up and are en route with an estimated delivery time of around a week from today. As soon as these arrive, everything will start to move forward quite quickly.
Key layout options have been introduced, OLED options have been finalised and are ready to be tested as soon as the PCBs arrive, and the case design itself has had a full overhaul.
The machinists selected to produce the cases for Whimsy are probably around 6 miles from where Fourteen is based in the UK, which ensures there will be constant contact with them throughout the manufacturing process and any potential issues can be rectified with ease and speed.
They have also set aside some time for this first batch of 3 final cases but to avoid any costly/unnessary setbacks, 3D printed prototype cases have been run-out and will be tested thoroughly prior to any final production to ensure there aren't any wasted time and/or materials 👇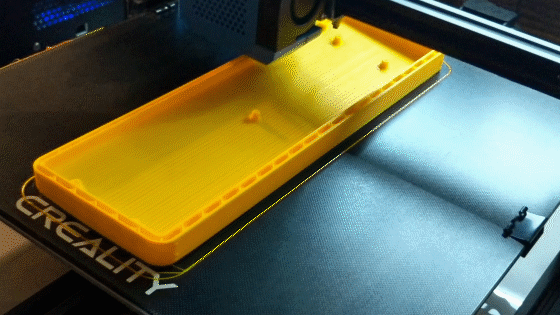 Plate files are already designed and ready for manufacturing (also in the UK), which won't take too long to produce and get to us once the case and PCB is signed off.
All being well, the acrylic covers will follow soon after this and then it's just a case (again, pun intended) of getting a couple built up and one sent out to a friend to build onstream.
More details on this to follow.
Providing everything goes well with the prototype builds and any minor issues aside...the first fully finished Whimsy will be completed just before christmas 🙌 and everything should be ready to go for the buy early February 2021.
More regular updates will be provided on this site alongside pings to the Discord server. so please feel free to join up over there or check back here to keep tabs on everything 👍